Learn the purpose of Youtube's creator studio. Free music and materials all at your disposal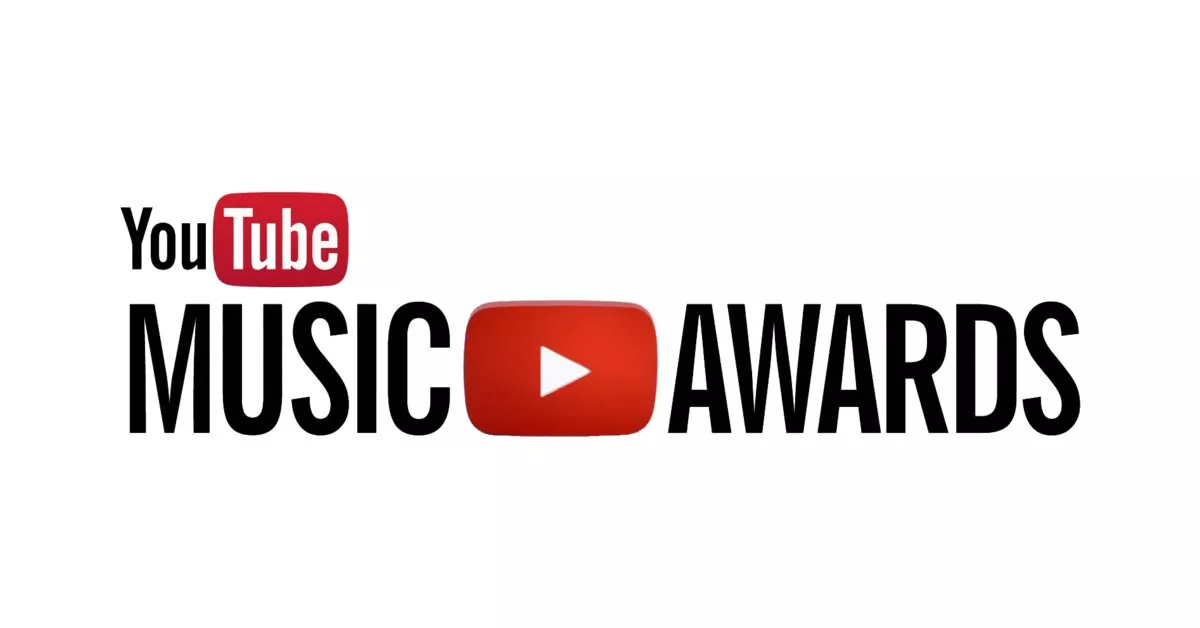 "Those who enjoy making videos are certainly aware, that background music is resources that you cannot skip out on. Additionally, sound effects are also a crucial touch to add to your videos, however, copyright issues are always a concern when using music or sound effects in videos. This article will introduce the audio library available in Youtube's creator studio, so long as you follow the regulations, you will get a myriad of music and sound effects to use for free."
Youtube offers free music materials that can be used in business or even public scenarios. Users can pick suitable materials to add to their videos based on their own preferences and the duration of their video clip. Background music and sound effects are often in great demand when producing self-made videos or commercial clips, while you will be able to find a lot of royalty free music resources on Youtube, it may often be time-consuming to find the most suitable style of music and edit out the music clip to the right duration. Youtube has been offering its own audio library since the earlier days, providing audio resources for businesses use, personal use or any other kind of public purposes.
Free download available after preview, completely royalty free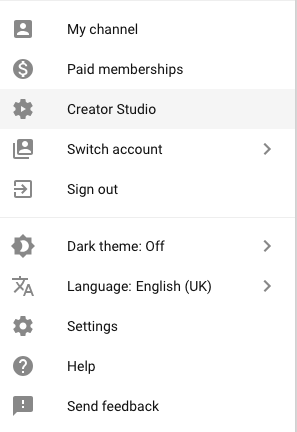 As stated clearly by Youtube: this audio library contains free royalty free music meant for Youtube channels. Users can search for themselves, remix, edit and publish this music for commercial purposes. If the music has a "named label", that means a credit must be included, clearly citing the original composer. Otherwise, all the music in this library is free and is organized based on its genre and mood.
Below shows the free music and sound effects Youtube's creator studio offers, please check user agreement before using these resources: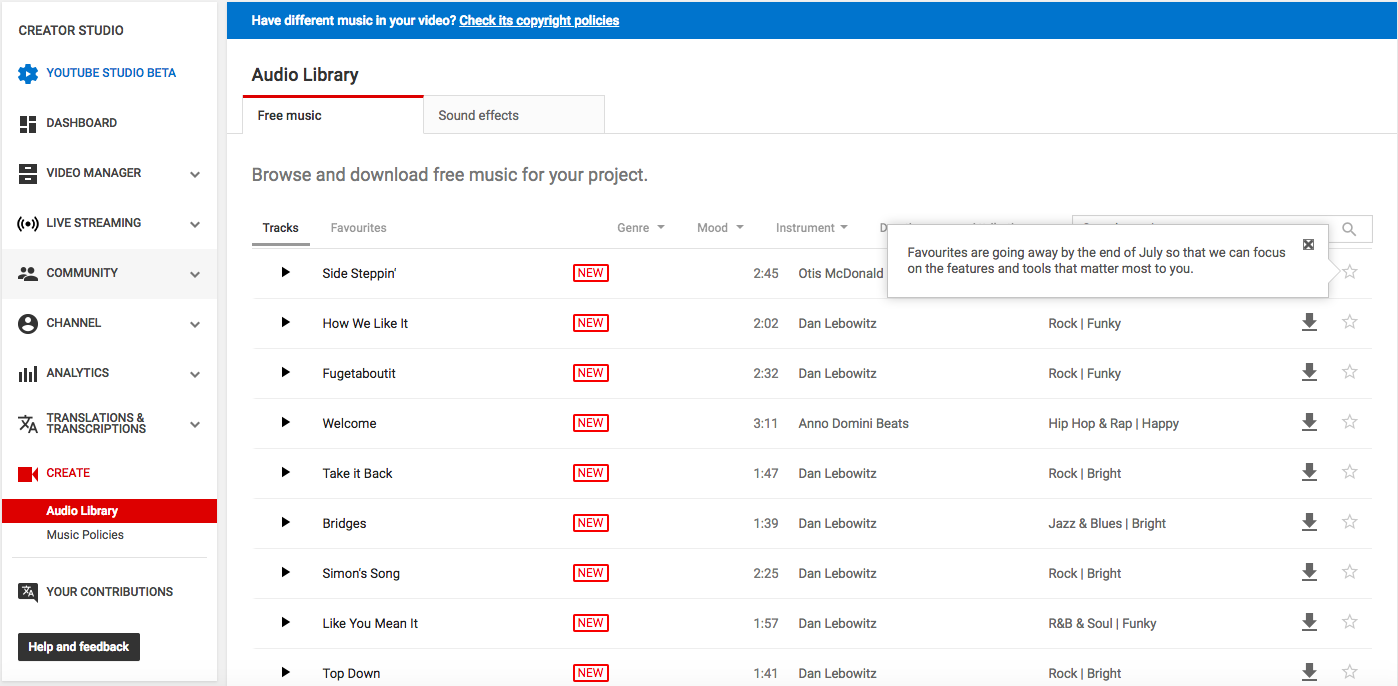 ▲ The Youtube creator studio offers free music in its audio library, and you can search these music based on genres such as classic, alternative & punk, hip hop & rap, rock, ambient, pop, jazz & blues, R&B, dance & electronic, country & folk, reggae etc. You could also choose music based on its associated mood with selections in the category of inspirational, calm, sad, angry, dramatic, funky, bright, romantic, dark and happy etc. Lastly, you can even search for suitable music based on your video duration.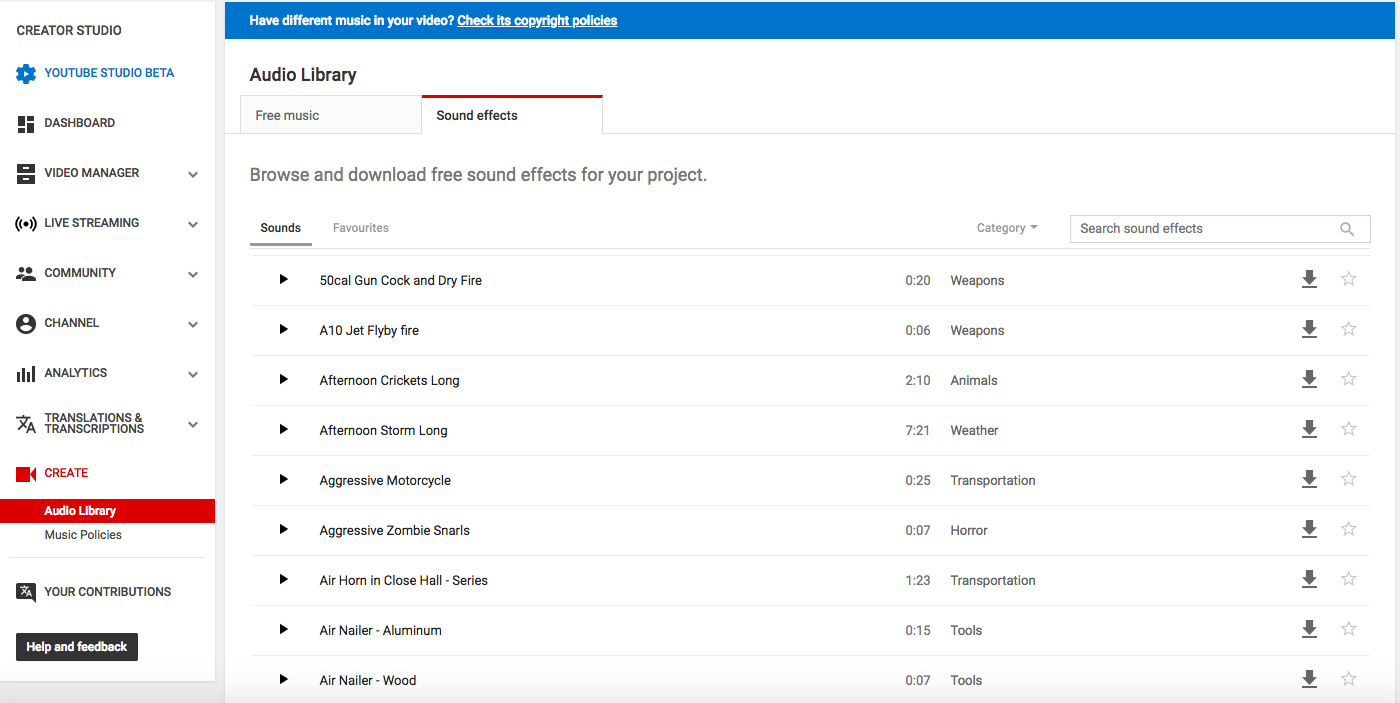 ▲ In the category of sound effects, you will find many short sound effects such as walking sounds, tools sounds, action sounds, impact sounds, animal sounds etc. Sound effects such as these are also a very important aspect in the appeal of self-made videos.
If you are interested in our articles, you can also LIKE our page:)